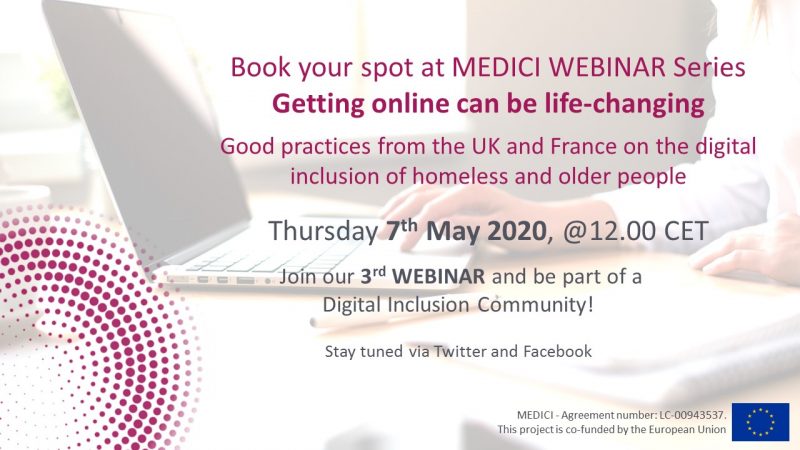 Third MEDICI Webinar – Digital inclusion for homeless and older people
Connect on Thursday 7th of May at 12.00 CET and discover how getting online can be life-changing with a presentation of good practices from the UK and France to overcome digital exclusion among homeless and older people.
David Scurr, Partnership & Project Manager at Citizens Online (UK). He joined Citizens Online in September 2017 to lead on the Digital Brighton & Hove project, managing a cross-sector partnership network of over 100 organisations tackling digital exclusion. Fluent in French and Spanish, he has 10 years' experience managing and developing international networks, events and business partnerships in the social sector. An advocate of "Tech for Good", David is passionate about making our digital age one that is fully inclusive for everyone in our local communities.
Victoria Mandefield, Ddirector at Solinum (France). After volunteering for years with NGOs working with homeless people, Victoria experienced first-hand the challenges of social work, and how little innovation was directed towards the sector. She thus decided to create Solinum, as she finished her engineering degree and went on to get a double degree in business. Now at 25, she has been leading the non-profit for 5 years, and gathered a team of 10 employees and 50 volunteers, working for the inclusion of homeless and people leaving in precarious conditions.
Find out more in the agenda.
The Webinar is free but registration is mandatory.
Discover the registration ➡️ https://www.youtube.com/watch?v=-ucU4SmumYA&feature=emb_title